Attic Treasures Antiques in Watkinsville is open from 9-3 Monday-Saturday. Other times by advance appointment. To set up a time and day, phone 706-424-1079 *women's items* or 706-621-2564 *men's items*. Please wear a mask.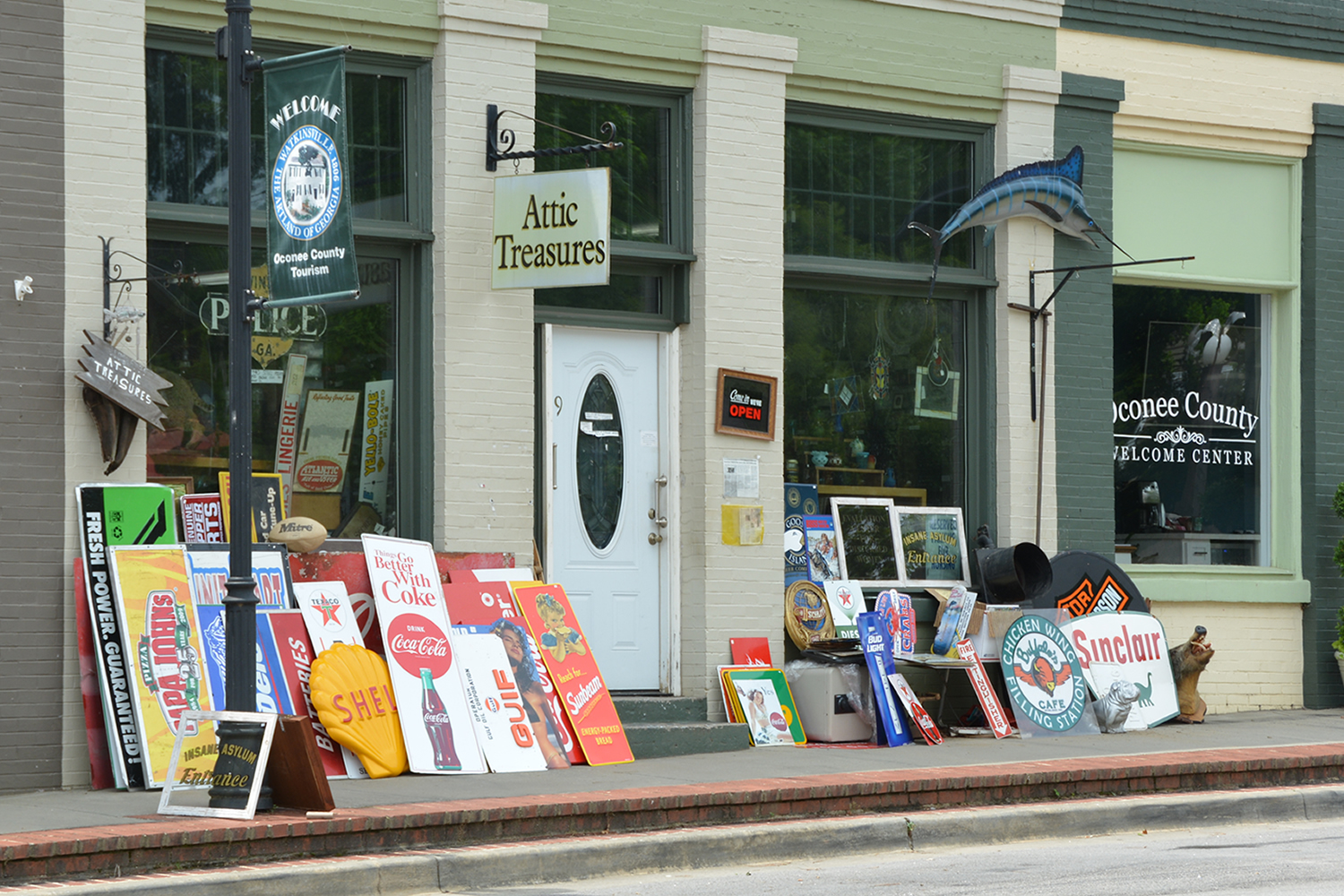 Travelers often stop in Watkinsville for antiquing because it's a pretty town with opportunities to grab a bite to eat and get out and stretch your legs. Watkinsville features the historic Eagle Tavern and the Art Deco Oconee County Courthouse. Just south of town on Hwy 15, you'll find the Iron Horse and Elder Covered Bridge.
Walking into Watkinsville antique store Attic Treasures Antiques is a bit like entering a museum. We have items dating back to early Native American cultures, the Civil War, and both world wars. Come in and browse our fine antique jewelry and an extensive collection of vintage signs.
---
Antique signs, road signs, store signs, Coke signs, and gas station - both vintage and new - everything from porcelain to plastic
---
Sterling Jewelry
---
Scottish, American, and Native American rings, earrings, bracelets, and necklaces
---
World Wars
---
German helmets, Luger pistols, Nazi daggers, medals, death cards, Allied memorabilia
---
Vintage Fine Jewelry
---
Gold, platinum, diamonds, other precious stones, men's and women's rings, earrings, necklaces, bracelets, brooches, and cufflinks
---
Civil War Relics
---
Colt and Remington pistols, Springfield rifles, uniforms, Confederate money, bullets, cavalry saddles, and swords
---
Vintage Costume Jewelry
---
Czech glass earrings, bracelets, necklaces; 20th Century pins, bracelets, earrings, and necklaces, plus cufflinks for men
---
---
Arrowheads, spear points, stone axes, pipes, and effigies
---
China/Glass
---
Depression glass, Fenton glass, early American, fine English and American china, bone china cups and saucers
---
---
Our pipe collection includes old English briar pipes like Dunhill and Charatan, Danish freehand, Turkish meerschaum