Do you collect tobacco pipes? Watkinsville antique store Attic Treasures has an extensive collection of some of the best-known briar root wooden tobacco pipe brands in the world. Owner Charles Stewart is a walking pipe collecting guide with an encyclopedic knowledge of rare pipes and their values – including antique meerschaum.
Briar comes from the root of a species of Mediterranean flowering bush in the heather family and it's an excellent wood for pipe making because of its natural resistance to fire and the way it absorbs moisture. In nature, the root soaks up moisture to supply the bush in the dry times and it takes in the moisture that comes from burning tobacco as well.
If you're looking for guidance on the best tobacco pipes, stop by and chat with Charles. He can tell you about collectibles like Dunhill pipes, which have been considered among the finest briar pipes for over 100 years. Alfred Dunhill introduced his signature white dot – originally made of ivory – in 1915, so the pipe smoker would know which way to turn the pipe stem on straight pipe (you put the spot on top).
Check out this great video of tobacco pipe manufacturing in the Dunhill factory.
Attic Treasures Antiques has other brands like Charatan pipes, which were the first to be hand carved from a single block of briar root.
Our Danish freehand pipes are where the maker uses the briar wood grain to determine the shape of the pipe and that often results in some wonderfully creative designs.
Other favorites include Italian smoking pipes which also feature handmade briar root designs.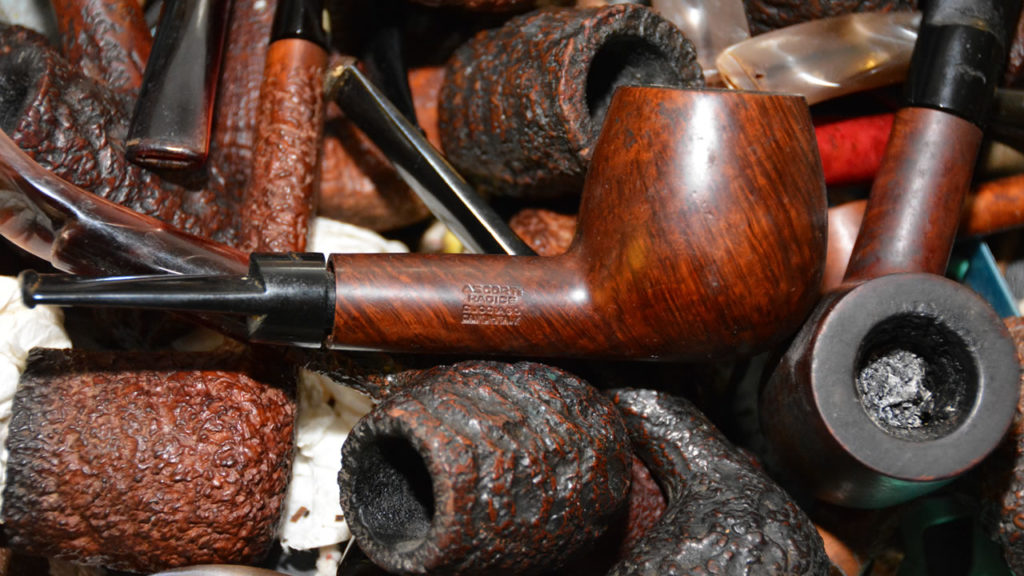 Our customers also frequently ask for brands like Barling pipes, Castello pipes, and even clay pipes.
We have some meerschaum pipes and can tell you an antique meerschaum pipe's value. A Meerschaum pipe is made from the mineral sepiolite and is often carved into the most intricate patterns. Meerschaum is more durable than clay, and rose to prominence in the 1700s. It's known for a cool and dry smoke. The porous nature of the stone draws moisture and tobacco tar into it – enhancing the color of the pipe over time.
If you like rare pipes, Watkinsville antique store Attic Treasures Antiques is worth a visit.